Copper Dust D Akebono Scale (shipped within 14 days)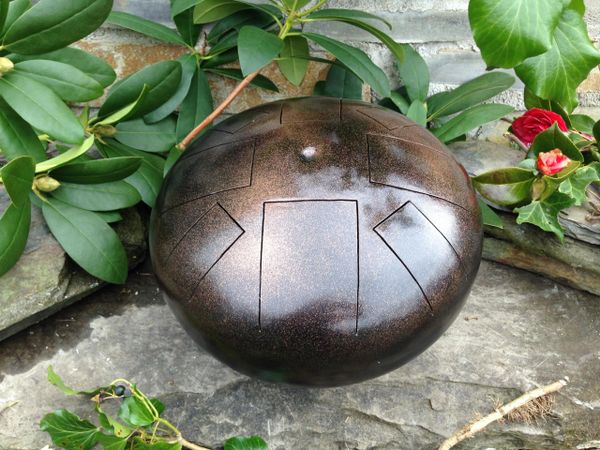 Copper Dust D Akebono Scale (shipped within 14 days)
This steel tongue drum comes in a low D pentatonic.This scale is a great all rounder for those who want low tones on their drum, allowing for expression and a sense of conclusion making it popular for meditation techniques and musicians of all ability's. The notes have a long and deep sustain allowing for some enchanting harmonics. This drum will never go out of tune and can be played with beaters or hands.

Ethically crafted by hand and without exploitation in the Tamar valley from recycled steel. and finished with in a copper mist. The notes in this scale are D E F A Bb D E F
This drum is approximately 31cm wide

This drum comes with; Note diagram which will show you where the notes are on the drum. A hand made draw string bag and 1 pair of hand crafted Mohair beaters in black and copper. ( all our beaters are made with mohair from our own goats and are 100% vegetarian).
Reviews