Mini Golden Mist - Meditation Scale - A Akebono Scale (shipped within 48hrs)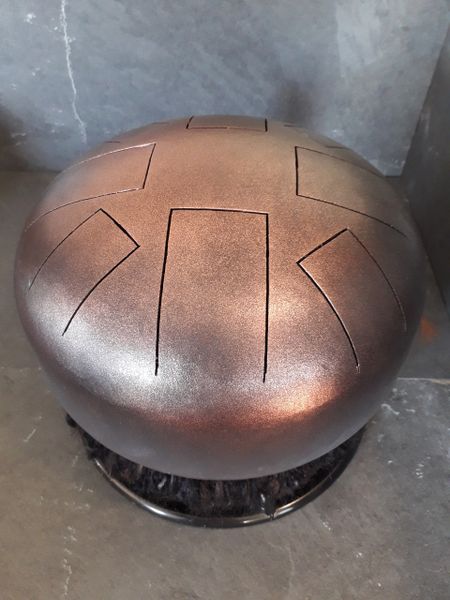 Mini Golden Mist - Meditation Scale - A Akebono Scale (shipped within 48hrs)
This steel tongue drum is the smallest we offer making it a great travel companion. It comes in A Akebono scale, one of our most popular scales. This scale is a great all rounder, with beautiful meditative tones. Allowing for relaxation, expression and a sense of conclusion, it's popular with therapists, for meditation techniques and musicians of all ability's. The notes have a long sustain allowing for some enchanting harmonics. This drum is the smallest steel tongue drum we produce making it an ideal travel companion. The drum will never go out of tune and can be played with beaters or hands which allows you to sound great instantly.
Ethically crafted by hand and without exploitation in the Tamar valley from recycled steel and finished with Golden mist.
Specifications

The notes in this scale are   A  C  D  E  G  A  C  D
Size: 23cm wide / 15cm high approximately

Weight: 2.5kg approximately

This drum comes with;
Note diagram, hand made draw string bag and 1 pair of hand crafted Mohair beaters in purple and black. ( all our beaters are made with mohair from our own goats and are 100% vegetarian).
Do not hesitate to contact us if you have any question about this or any of our instruments.

Reviews