Peacock Spray -C Kurd Scale (shipped within 48hrs)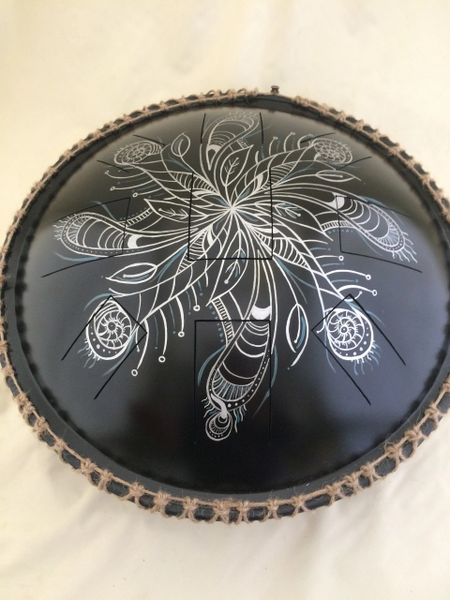 Peacock Spray -C Kurd Scale (shipped within 48hrs)
A sound sample is available below the description.
Description
This 9 note Tamar steel tongue drum comes C Kurd scale. This is one our lower toned drums and maybe not be suitable for those starting out with this instrument as it requires an certain amount of technical experience to make this intrument shine..This scale produce some amazingly low triads and is great for self expression and as a meditation tool . The notes have a long sustain allowing for some enchanting harmonics. This drum will never go out of tune and can be played with beaters or hands.

Ethically crafted by hand to the highest standard without exploitation in the Tamar valley (UK) from 2.0mm hydro-formed tempered British steel and finished in black with a hand painted peacock feather spray in silver and blue.
Specifications

The notes in this scale are  C Db Eb F G Ab Bb C Db

Weight  4.5kg 
Width  45cm  Depth 20cm

This drum comes with
Note diagram,  hand made gig bag and 1 pair of hand crafted Mohair beaters in matching colours (other colours are available on request) and a hand made maracme band.

( all our beaters are made with mohair from our own goats and are 100% vegetarian).
Reviews