Purple Midnight - Enlightenment Scale - D Akebono (shipped within 48hrs)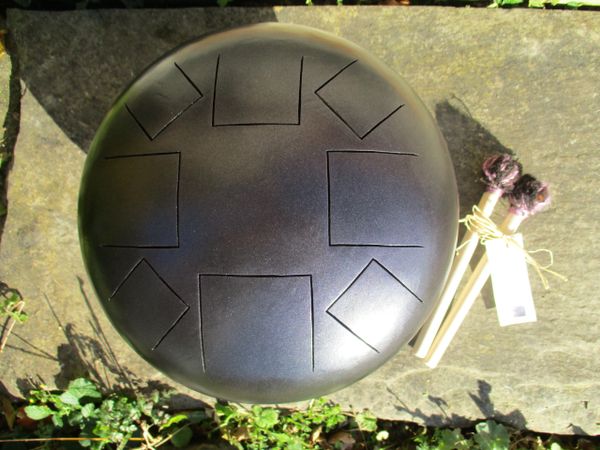 Purple Midnight - Enlightenment Scale - D Akebono (shipped within 48hrs)
A sound sample is available at the bottom of the description
Description

Ethically crafted by hand  in the Tamar valley from recycled steel and finished in a beautiful dark purple.
This 8 note steel tongue drum comes in the D Pentatonic scale . This scale is a great for relaxing and gives a sense of enlightenment.  Popular with teachers, therapists, for meditation techniques and musicians of all ability's. The notes have a long sustain allowing for some enchanting harmonics. This drum will never go out of tune and can be played with beaters or hands.
Specifications

Size: 23cm high / 29cm wide approximately.
Weight: 4.6kg approximately.
The notes in this scale are D E F A Bb D E F
This drum comes with:
Note diagram,  hand made draw string bag and 1 pair of hand crafted Mohair beaters in a matching dark purple colour. (all our beaters are made with mohair from our own goats and are 100% vegetarian).
Do not hesitate to contact us if you have any questions about this or any of our instruments.
Reviews